Greetings!
This is the Pacific Naval fleet, alternatively known as the Pacific Defense fleet. This navy is a united fleet of Countries located near the Pacific Ocean, Particularly Asia. Our headquarters is in Hong Kong. The objective if this fleet is to increase the military power of countries along the Pacific and Protect our teritory.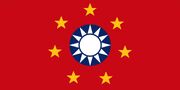 Application
Edit
These are the things to put for your application in the comments section.
1. Flagship
2. Which ships do you specialize in?
3. How much experience do you have in combat.
4. (Optional) Why would you like to join this navy?
Fleet Admiral: Ej2333
Vice Admiral
Lower Admirals
Commodore
Captain
Lieutenant
Heavy Warships
Edit
Battleships and Battlecruisers
Edit
Destroyers, Frigates and Corvettes
Edit
Submarines
Edit
Flying ships
Edit
Ad blocker interference detected!
Wikia is a free-to-use site that makes money from advertising. We have a modified experience for viewers using ad blockers

Wikia is not accessible if you've made further modifications. Remove the custom ad blocker rule(s) and the page will load as expected.